Electric scooters offer a way to move around the city five times faster than walking while being eco-friendly, fun and very low cost. Unlike a bicycle, you're not sweaty when you arrive!
Speed, size, weight, range, reliability and cost are just a few of the factors you need to take into account before you buy an e-scooter. In this guide we have tried to help you understand what's important to ensure that you pick the best electric scooter for you.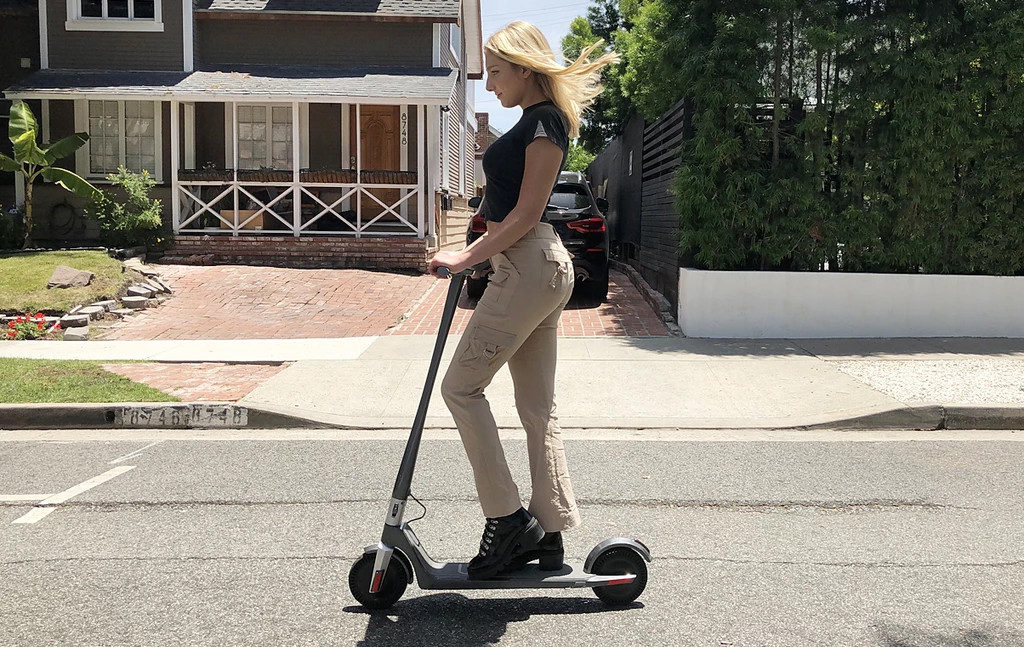 We purchase and design the best e-scooters from around the world and rigorously test them in some of the most difficult urban terrain to find out what's great and what's not so great about each one. We then listen to our customers feedback to ensure we continue to only offer the best e-scooters.
Quality of ride
The ride quality of some e-scooters is so bad that they can't be ridden for more than 1 kilometer on anything less than a perfect surface (think of a scooter with wheels that are too small to get over cracks in the sidewalk). These e-scooters look great on a web page, but many people stop using them because they are downright dangerous.
There are 3 main factors that affect the ride quality:
Wheel size: We strongly suggest you avoid wheels less than 8 inches diameter. Smaller wheels give a rougher ride and are more susceptible to getting stuck in potholes.



Solid or air-filled tires: Air-filled tires definitely give you a better ride. We strongly recommend that you use a puncture protection fluid (see accessories we recommend) as it's not easy to mend punctures. Scooter tires are much more difficult to get on and off than bicycle tires, which makes fixing punctures more difficult. Solid tires offer a solution to punctures if you are regularly riding where there is a lot of glass or nails but be aware that the ride quality is noticeably reduced.



Suspension: A nice idea, but it only takes out the jarring from the biggest bumps. A scooter with large, air-filled tires without suspension will give a smoother and more in-control ride than a scooter with suspension, but with solid tires and small wheels. As a rule, you need large wheels with air in your tires OR you need suspension. If you are going to do a lot of off road, you will need fat treaded tires.
Speed: The speed is determined by the motor power, rider weight, how hard you pump up your tires and the surface you ride on. The advertised speeds are generally based on an average sized 70kg person using a flat, smooth surface with correctly inflated tires. Our advice is to not worry much about maximum speed, in that most people don't want to move faster than about 20km/h (15 mph) once they get on a scooter. Average walking speed is 6-7km/h (4mph). Road gradient and rider weight will affect the speed at which your scooter can travel; on steep hills, the heavier you are, the slower you will go.
Brakes
Your safety should always come first, and brakes are important when picking an electric scooter. There are 3 main types of brakes on electric scooters:
Electric brakes: Low maintenance but less effective at stopping you quickly.
Disc brakes and drum brakes: The best of all but will wear out over time. They will eventually need to be serviced, just like a car.
Foot brakes: Require you to stand on the rear mud guard. Unless you are used to using a kid's scooter, this takes time to master.
Range
It is important to note that the manufacturers' quoted ranges for electric scooters are always best-case scenarios. Most are based on a light person (70kg) riding on perfectly smooth, flat, straight road, with a new battery. Be aware that cheaper scooters have cheaper batteries and the amount of charge they can hold diminishes with every charge.
Build Quality
Most scooters are made in China where batteries, motors, and other components are inexpensively made. Chinese manufacturers produce some very high-quality products, but you need to watch out for lower quality products as well. In 2015 there were serious problems with some Chinese batteries in the news for which the effects are still felt today. Make sure you choose a brand that only selects high quality lab-tested batteries.
Reliability
Electric scooters are still a relatively new product category, and it's important to watch for manufacturer reputation and build quality.
Two main factors need to be considered:
Warranty
Will the company be around in the future to honor it? Going with established companies should give you peace of mind. If you need to use your warranty, where will you need to send your electric scooter? We have heard horror stories of people having a minor fault and needing to send their scooter back to China to be fixed. This has taken months and cost a lot of money.
Fakes and cheap imports
There are a lot of cheap scooters being imported from China. These often look the part, but cut quality (cheap wheel bearings, battery problems, etc). This results in the scooter failing much earlier than it should. You should only buy from trusted suppliers.
Size
We recommend people consider whether the scooter is the right size for them while riding, and if it is small enough to store conveniently when folded down. Most scooters fold down to make them small enough to store at home, in the car or under the desk.
Some things to consider related to size:
Bar height and width – appropriate to your size?
Deck size – comfortable enough to stand on for the duration of your ride?
Fold down size – will it fit in your car or home?
'Cool' factor: Some manufacturers cut costs by borrowing reliable and cheap components from bicycles, and it shows! This does not affect the functionality of the electric scooter, but they do look like home-made devices. Whilst for some people the look and style of the e-scooter may be unimportant, for others it is a priority.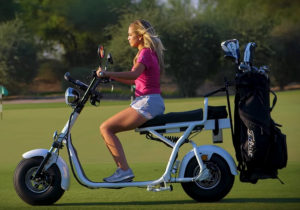 Weight of scooter: It is important to consider how far you might have to carry your scooter at the beginning or end of your journey – perhaps up a flight of stairs or lifting into a car or bus. Most electric scooters on the market weigh around 20-30lbs (15kg), some a bit more, and some a bit less. If you are not so strong, we would suggest you go for one weighing 12.5kg or less.
Maximum Load: Not all electric scooters are built to carry the same load and you should factor this in to your decision making. Most scooters publish a maximum rider weight of 220lbs (100kg). A lot of people who weigh over 100kg ride these scooters with no problem every day. In our experience modern designs tend to be over engineered and we've tested all of our scooters at maximum weight conditions on rough roads to ensure they hold up well. However, you must be warned that this can invalidate your warranty and could be dangerous.
Lights: Some electric scooters have built-in lights, some have reflectors. It is an easy upgrade to put state-of-the-art bicycle lights on your scooter if you are going to do a lot of night riding and is highly recommended as a safety measure.
Noise: Some older models of e-scooters make a loud and annoying noise from the motor when being ridden.
Accessories we Recommend
Helmet: your electric scooter will be going as fast as a bicycle, so we strongly recommend wearing a helmet at all times.

Knee pads: for beginners we'd recommend knee pads to protect your body from a fall until some experience is gained
Lock: your electric scooter is a valuable item and having a small portable lock will ensure its safety.
Phone holder (designed for scooters or bikes): allows you to concentrate on riding and the roads – so you're not holding your phone. Also, very useful too if you need to navigate with a map!
Puncture protection fluid: if you have air-filled tires it is worth using puncture protection fluid to reduce risk of punctures.
Lights: extra lights can be attached to your e-scooter for safer night riding and visibility
Cost: In addition to the advertised retail price of your chosen e-scooter, there are a number of cost factors to consider:
Finance available: finance options may make your e-scooter of choice more affordable by spreading the payments across a period of time. Zendrian offers financing options for most purchases in most countries.
Import duty: Consider that if you purchase from abroad, you may need to pay an import duty upon arrival to your country. We recommend researching these costs ahead of making your purchase.
Why Zendrian?

We are an American based scooter specialist with offices in China, Thailand, Vietnam, and Malaysia providing professional advice on a range of what we believe to be the best available scooters. We road test scooters and bikes in tough conditions (the hot, wet, and very very rough streets of Bangkok) and we only recommend the top products to ensure you get models that we know pass the test! Unlike many retailers, we hold stock of nearly every model, so you won't have to wait long to receive your purchase. We also offer a number of finance options to help spread the cost of your purchase. We have a team of industry experts dedicated to providing you with the best advice, best products, best service and best value.