Electric Scooters are a new alternative for traveling in Bangkok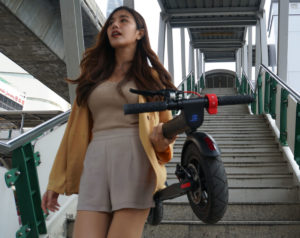 Let's talk about about scooter rental. It can't be denied that transportation around Bangkok has changed a lot in recent years, as more people are turning to cars and other private forms of getting around then ever before. Unfortunately cars clog up the streets and are inefficient to move one or two people around at a time; causing traffic, delays, pollution, and noise. Because of this unreliability, motorcycles and bicycles are also often used, which can be more efficient, however both come with their downsides. Now, consider the new form of electric vehicle, called an electric-kickscooter, or e-scooter, which can move itself through a powerful battery and a strong motor for tens of kilometers per charge.
What are some reasons to rent instead of purchase?
An e-scooter is a private vehicle so there is no need to use public transport or be near strangers. For the people who live in a city, electric scooters and electric bikes are suitable and flexible for types of movement that are most frequently needed – quick hops to the local convenience store, a restaurant, or up and down the soi to catch the public transportation as needed, without waiting for a tuktuk or local motorcycle taxi. Because of this need, we've developed a scooter rental program to make access to e-scooters and e-bikes simple and easy, without needing to take on the ownership. We offer weekly, monthly and yearly electric scooter rental services. So far, our offering has been most popular with Bangkok expats and other foreigners living in Thailand who understand how valuable personal transportation can be, but who may not want to deal with long term ownership.
Tips for choosing an electric scooter rental service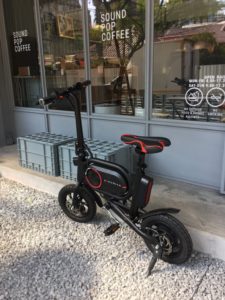 Choose the right size scooter for yourself, that can handle around twice the distance you plan to travel as it's advertised range. Consider the surface that you'll ride on and the type of traffic you'll be nearby to select a model that can handle any hills, obstacles, bumpiness, and of course is appropriate for your physical size and weight. Consider the security deposit, and compare the price against the cost of outright ownership. Finally, ask who would be responsible for such things as brake adjustments, flat tire repair, or any other mechanical issues that you may encounter along the way.
Recommended shop for electric scooter rental
I recommend as an alternative for those who want to rent a long term – 7 days or more, Zendrian's electric scooter rental service, which is located near BTS Nana in the Sukhumvit neighborhood of Bangkok. There are many brands of electric scooters that are ready for customers to choose as they like. Including, Zendrian ZX-9, Xiaomi Electric Scooter, Ninebot ES2, Zendrian ZYU-2 electric bike, and many other brands of scooter. The minimum rental of electric scooters is 1 week or more. For those who want to rent an electric scooter long range electric bike You can contact us by adding Line @zendrian or calling 02 460 7551. You can also begin your rental directly online, from our Electric Scooter Rental Service portal.